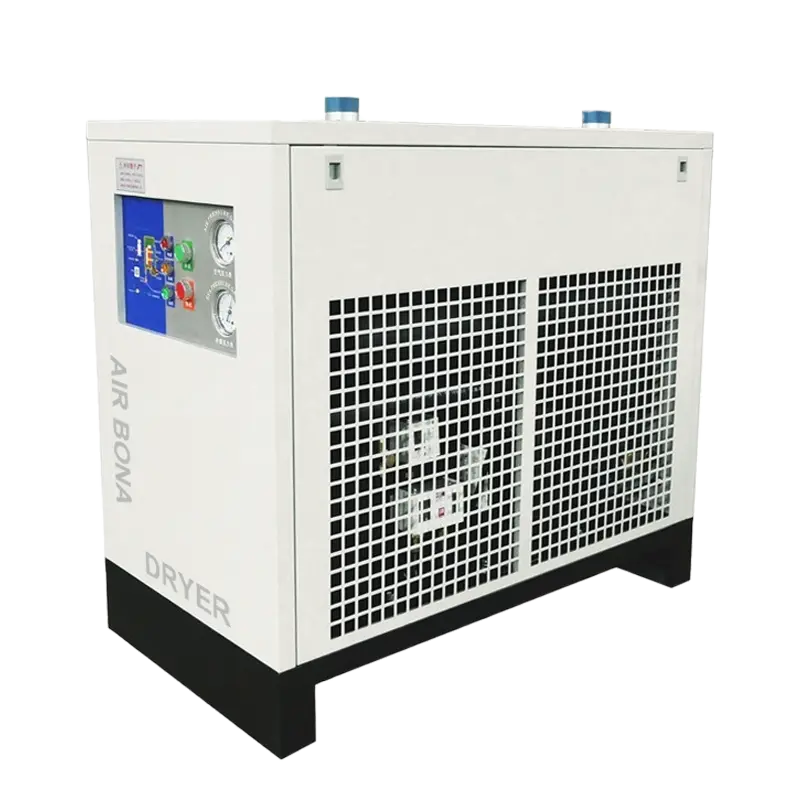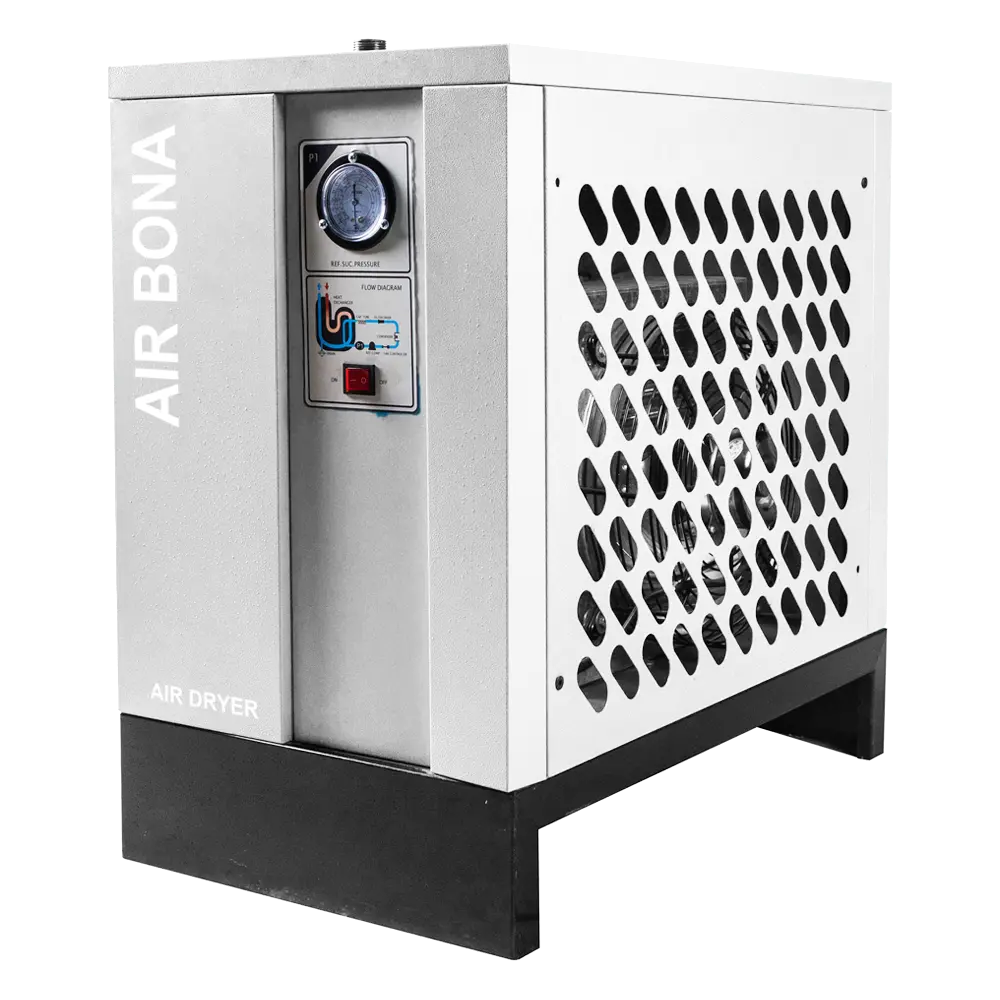 Our Advantage
At BONA, we understand that air quality is a crucial aspect of success within your air compressor system, as neglecting to properly treat compressed air can have significant impacts on your operations. This is why we have innovated a vast range of high-quality treatment equipment for all of your dryers needs – whether that may be a refrigerated, desiccant or heatless drying system – you can trust BONA to have the solution. 
Our dryers are designed as a companion to enhance your entire air compressor system, not only by ensuring high-quality air but also by improving productivity, efficiency and making the overall running of operations more manageable.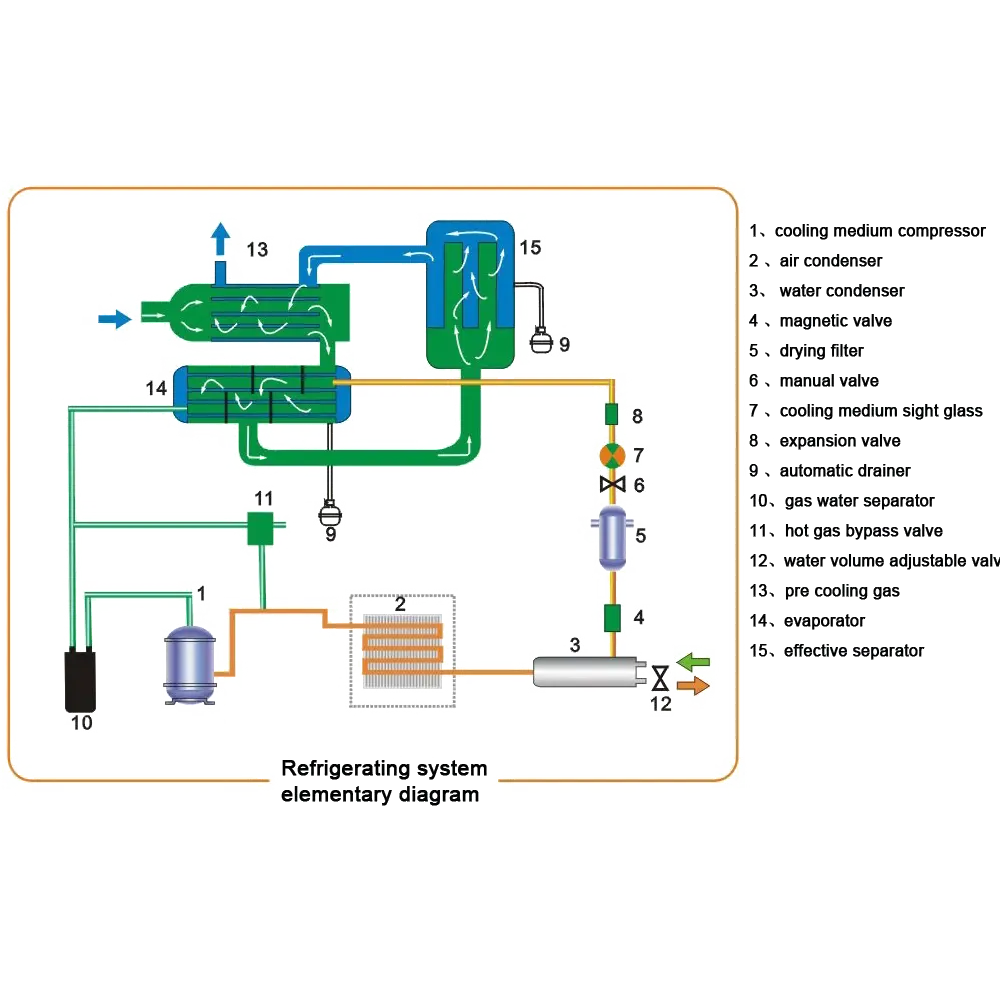 Refrigeration compressed air dryer makes the water vapor in the compressed air condenses into droplets through cooling so as to achieve the purpose of reducing moisture content. Condensed droplets are discharged by the automatic drainage system.
Model

  Flow 

Capacity

(Nm3/min)

Voltage

  (V)

Fan 

Power

(W)

Pipe 

Diameter

Air Inlet

Pressure

(Mpa)

Net 

Weight

(Kg)

Length

(mm)

Width

(mm)

Height

(mm)

Air 

Flow

(N3/h)

BNAD-0.5NF
0.65
220
1×67
G1/2″

0.6-1.0

MPa

45
750
430
610
760
BNAD-1NF
1.2
220
1×67
G1″
70
780
450
610
760
BNAD-2NF
2.5
220
1×95
G1″
110
800
460
720
1580
BNAD-3NF
3.6
220
1×150
G1″
130
950
480
720
3150
BNAD-4.5NF
5
220
1×240
G1 1/2″
150
1170
540
750
5580
BNAD-6NF
6.8
220
2×150
G1 1/2″
160
1350
520
753
6300
BNAD-8NF
8.5
220
2×195
G2″
200
1100
670
1098
8470
BNAD-10NF
10.9
380
2×195
G2″
250
1200
670
1098
8470
BNAD-12NF
12.8
380
2×195
G2″
300
1200
670
1048
8470
BNAD-15NF
16
380
2×190
DN65
320
1460
750
1630
8470
BNAD-20NF
22
380
2×240
DN65
420
1670
800
1663
11160
BNAD-25NF
26.8
380
2×240
DN80
550
1820
800
1713
11160
BNAD-30NF
32
380
2×380
DN80
650
1900
860
1875
15240
BNAD-40NF
43.5
380
3×240
DN100
2200
2200
930
1941
16740
BNAD-50NF
53
380
3×380
DN100
2450
2450
900
2110
22860
BNAD-60NF
67
380
4×380
DN125
2140
2140
1450
1787
30480
BNAD-80NF
90
380
4×550
DN125
2070
2070
1600
2029
42400